APPLICATIONS have started to arrive for the David Shepherd Cricket Trust's £50 helmets and balls offer.
More than 30 clubs took advantage of the offer last year when the Trust packaged three youth batting helmets with a box of match balls for £50.
The offer was so successful it ha been repeated this year, with a minor tweak.
There is no change to the offer – three helmets and six balls for £50 – but the helmets have been subtly changed.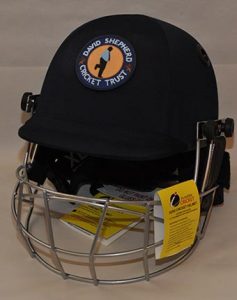 Instead of having the letter DSCT – David Shepherd Cricket Trust – embossed on them, they now sport the Trust logo.
Former Test match umpire David Shepherd, after whom the charitable trust is named, was famously superstitious and known all over the world for standing on one leg whenever the scoreboard reached 111 or multiples of it.
The Trust logo is of the instantly recognizable silhouette of Shepherd, appropriately standing one leg.
The new helmets were displayed for the first time at the annual meeting of the Tolchards Devon Cricket League.
Stuart Munday, the league chairman and a trustee of the charity, reminded clubs to get their applications in before it is too late.
"The offer from the Trust is a real bargain for clubs with youth sections," said Munday.
"To buy three helmets and six match balls in a sports shop it would cost more than £150, so clubs will make a huge saving by taking up this offer."
First in the queue for the offer were: Bovey Tracey, Shaldon Optimists, Topsham St James, Alphington CC & Weare Colts, Hatherleigh and Bideford.
To apply for your helmets and balls, email Gavin Lane (gavinbdlane@gmail.com) with details of your club together with contact names and contact details.