SADDLE-sore but satisfied! That was how Matt Theedom and Scott Chappell felt after completing their second JOGLE.
JOGLE stands for John o'Groats to Land's End, a route Theedom and Chappell have now cycled twice for charity.
Theedom and Chappell, who used to work together for the Devon Cricket Board, first biked the route in 2014 to raise money for charity.
The chance to do the ride again proved irresistible. This time the sponsorship money raised is being divided between the David Shepherd Cricket Trust and Cancer Research UK.
Nearly £4,000 has come in so far – and more is pledged from donors waiting for the pair to arrive home.
Theedom, the cricket development manager for the DCB, said it had been a tough ride but mostly enjoyable.
"Having done it before we had a good idea what to expect and also what to do differently," said Theedom.
""We came down a slightly different route that was 25 miles shorter, although as the entire distance was 933 miles it wasn't a massive amount.
"It might have helped had we not taken a wrong turning one day and gone up a 750-feet mountain we didn't have to go up at all.
"This time we came back through the Glencoe Mountains and also up and over Shap in the Lake District – that was quite a climb!
"Apart from the Lake District the route down was relatively flat, until we got to Devon and Cornwall, which goes up and down all over the place."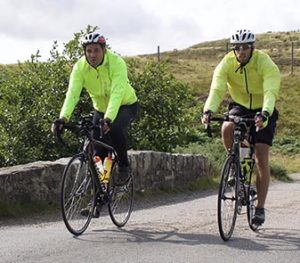 Chappell, the youth development officer for Somerset Cricket Board, and Theedom took nine and half days to get from John o'Groats to Land's End.
"We were lucky with almost everything all the way – apart from going up the wrong mountain," said Theedom.
"The weather was kind to us. We only had to ride in the rain for a couple of hours over the nine and a half days.
"When things did go wrong they all went wrong on the same day.
"The same day we went up the wrong mountain I had three punctures – the only ones all week – and fell of my bike as well.
"Our ride time was 67 hours, which is around 14 miles an hour. I would say that is a pretty good pace."
Would they do it again? "Never say never," said Theedom.
Theedom and Chappell have a Virgin Money Giving page, Search the site for JOGLE 2017 if you want to help them get closer to their £10,000 target.