Geoff Miller lifted the lid on his time as England's chairman of selectors during a fund-raising lunch in Exeter for the David Shepherd Cricket Trust.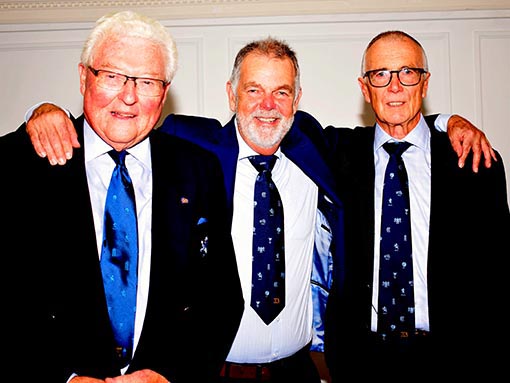 More than a hundred diners sat down for lunch in the function suite at the Exeter Golf & Country Club to hear the former Derbyshire and England all-rounder talk about his near 50-year career in the game.
As Miller played 59 times for England in all forms of the game, and totted-up more than 700 games as a professional during an era that included the likes of Jeff Thompson, Michael Holding and Bishan Bedi, there was plenty for him to talk about.
Miller followed his playing days with 14 seasons as an England selector, the last six of them as chairman, and during his tenure England spent time ranked number one team in the world.
Diners laughed along with Miller as he recounted tales of facing fearsome West Indian pacemen like Holding and Daniel, but had some serious questions for him about his time as the England supremo.
And it was not long before the questioning turned to Ben Stokes, the England all-rounder whose World Cup-winning performance against New Zealand and match-winning knock against Australia at Leeds have been the sporting highlights of the year.
Miller revealed he was tipped off about Stokes by his former Test colleague Geoff Cook who was coach at Durham when the future England all-rounder was starting out on his pro career.
"Geoff called me and said I should have a look at a young lad they had who had the potential to play like Gary Sobers," said Miller.
"He was left-handed and an all-rounder, like Sobers, and even at a young age had a good technique.
"To make it to the very top you need more than just technique: mental toughness is the other thing you have to develop to turn potential into going all the way."
Without directly referencing Stokes' problems with the courts in 2018, problems which temporarily cost him his England place, Miller said: "Ben has shown his mental toughness by putting his difficulties behind him and showing what he can do on the cricket field."
England occupied number one spot in the world in 2011-12, which was under Miller's stewardship. Since the ranking system was formalised in 2003, that is the only time England have been number one.
Miller was asked which players turned England from also-rans into the best in the world? His answers were Jonathan Trott and Graeme Swann.
"At the time England had some great players – Cook, Anderson, Strauss immediately spring to mind – but the security of the side was down to Trott and Swann," said Miller.
"Trott batted at three which is a position where you have to be ready for anything. You could go in at none for one in the first over, or 170 for one late in the day. He made the batting secure.
"Graeme Swann's ability to bowl off-spin on any surface, not just ones that suited him, meant he could get through overs anywhere and allowed us to pick an extra batsman.
"If you pick four seamers one of them generally does not have much to do, unless it is a West Indian side with a battery of fast men and no spinner at all!
"Picking Graeme meant I could select another batsman in the top six and still have (keeper-batter) Matt Prior to go in at seven. That extra batsman made a huge difference to us."
Friday's charity lunch, which was sponsored by Vospers Motor House, was the latest in a long line of fund-raisers for the charity. Other lunch guests have included Andy Flower, Mike Procter and Mike Gatting.
The lunches raise money to help the Trust fund year-round youth and development projects all over Devon.
Around £20,000 a year is made available for everything ranging from coach education to elite player development and from tournaments for special schools to winter coaching sessions for club youngsters.
Trust officials are still totting up how much was raised from the lunch, which was supplemented by a raffle that raised more than £800. Donations came in from Plymouth jewellery firm Michael Spiers, Dartmoor Brewery, Tolchards Drinks, and Exeter Golf & Country Club.
An auction, of cricket memorabilia and other items, further swelled the coffers.
A cricket bat signed by Ian Botham, James Anderson and England captain Joe Root was the star lot in the auction and was sold for more than £600.
Jack Davey, one of the charity's trustees, said the lunch had been a great success on all fronts.
"Geoff had our lunch guests captivated because they could all relate to what he was talking about," said Davey.
"The older ones enjoyed his stories about ducking bouncers from Holding and Daniel – and everyone was keen to hear Geoff's views on the what's going on now as he was part of it until very recently.
"Our sponsors and benefactors generously made donations for the raffle and the auction, which helped increase what we raised.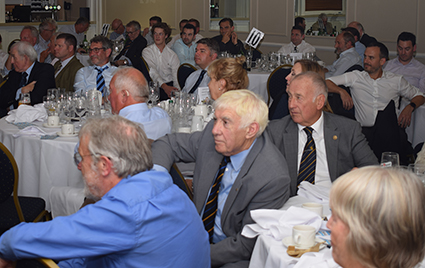 "I have had numerous emails from lunch guests saying how much they enjoyed their day and how they are already looking forward to the next one."