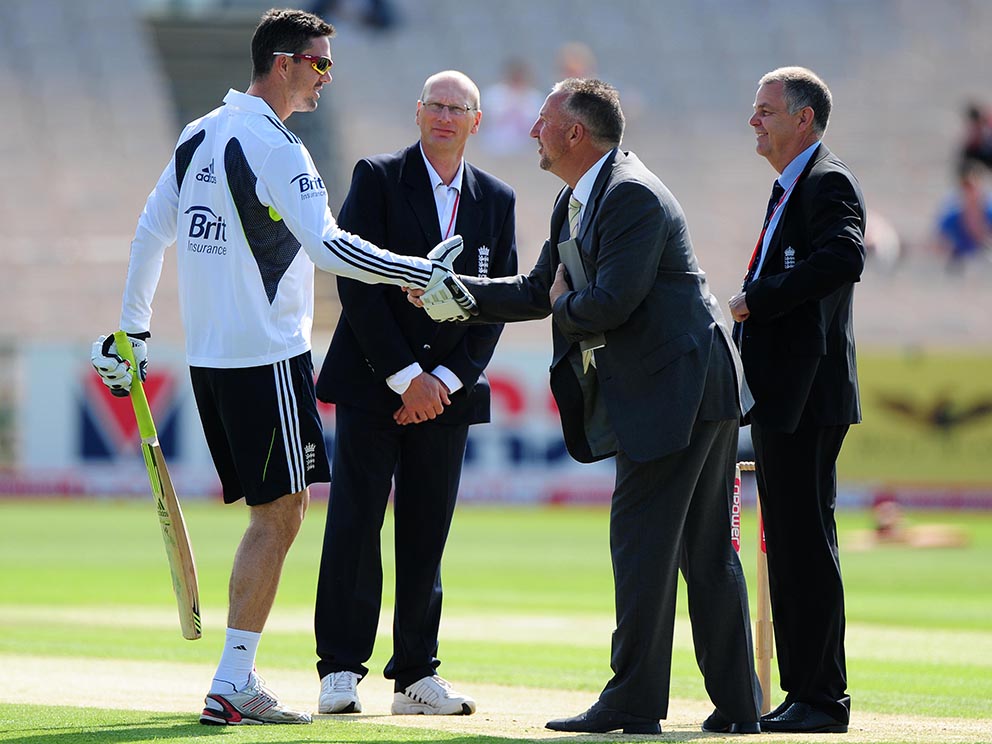 ENGLAND'S fluctuating Test fortunes against the very best in the world are unlikely to change until the players involved play more two-innings cricket.
That's the considered view of ex-Derbyshire and England all-rounder Geoff Miller, who for 13 years was an England selector and chairman of the panel for six seasons until his retirement in 2013.
Miller, who is the guest speaker at the Vospers Motorhouse-sponsored 2019 David Shepherd Cricket Trust luncheon in Exeter on September 27, made his comments shortly before the fifth and final Ashes Test against Australia got under way at the Kia Oval today (September 12).
Miller, who played in 34 Tests and 25 One-Day Internationals between 1976-1984, said he celebrated England's World Cup final win over New Zealand as enthusiastically as anyone. But he also recognised the growing gulf between 50-over cricket and a five-day Test.
"To win one-day games players need to be aggressive and creative and their technique reflects that," said Miller.
"You see them trying to scoop the ball over the wicketkeeper's head – no one ever tried that in my day against Michael Holding – or trying to take a wicket with every ball they bowl, which is fine in a 50-over game.
"The lads playing Test are not bad cricketers, but they are not Test-match toned by the cricket they play most of the time. They have to un-learn techniques they have adapted and that isn't easy."
Miller said being in the England 'bubble' almost full-time probably contributed to the problem of players performing to their full potential at the very highest level.
"I was sitting on the balcony at Chesterfield when I told a young Joe Root he was in the England team for the first time – and in no time at all he is on a central contract with the ECB.
"The problem with central contracts is ECB control the cricket players play and what they miss out on is four-day games in the County Championship.
"It is in county cricket where players learn how to bat time, how to bowl spells that put pressure in batsman and the art of captaincy.
"Mike Brierley, Brian Close, Tony Greig – they all learned how to captain sides in county cricket. Players now don't get the same opportunity."
Miller played in three Ashes Series himself and for five seasons was Ian Botham's room-mate on England tours.
During his after-dinner speech to Trust supporters he will relate anecdotes from his 18-year career as a professional and his term as an England selector.
The dining room at Exeter Golf & Country Club has seating for 160 diners and tables of ten have sold well.
Devon County Cricket Club, Torquay CC, Devon County Seniors CC, Kingsbridge Veterans, Tim Western and event sponsors Vospers Motorhouse have already reserved tables.
Lunch is a two-course affair and menu choices are (mains): roast pork tenderloin, swede fondant, apple puree, cabbage, bacon, glazed potato, black pudding and cider sauce or fillet of sea bream, crushed herb potatoes, leeks, baby turnips, chervil and mussel cream; deserts: treacle tart and vanilla cream or pear Crumble with stem ginger ice-cream.
Tickets are £40 per person or £400 for a table of 10.
To book a ticket or reserve a table, email lunch organiser Peter Shephard or call him on 07974 045182.